Members get more: Join or renew today!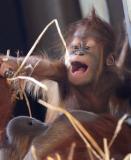 It's fast! It's easy!

Questions or comments? We're happy to help! Please call us at 317-630-2046 or email membership@indyzoo.com. The office is open Monday through Friday from 8am to 5pm.
Please note: The deadline for guaranteed delivery by mail of orders placed online was Dec. 6. Memberships can be purchased in person at the Zoo's Front Gate during regular operating hours. You may still place orders online or over the phone at 317-630-2046 Monday-Friday from 8am-5pm for delivery after Dec. 25.
Already a member? Click here to RENEW!
Renewing a gift membership? Find the level you want to renew from the list below and click Join!
Description

Individual Memberships

FREE admission for one adult and one *guest.

$140.00

BEST VALUE! FREE admission for one named adult and FOUR *guests.

$205.00

*Cardholder must accompany guests.

Household Memberships

FREE admission for two adults sharing the same household plus all dependent children age 21 and under.

$170.00

FREE admission for two adults sharing the same household plus all unmarried grandchildren age 21 and under.

$170.00

BEST VALUE!

FREE admission for two adults sharing the same household plus all dependent children age 21 and under. Plus TWO *guests.

$205.00

BEST VALUE! FREE admission for two adults sharing the same household plus all unmarried grandchildren age 21 and under. Plus TWO *guests.

$205.00

*Cardholder must accompany guests.

Conservation Club Memberships

Make a bigger impact! All donor level memberships include FREE admission for two adults sharing the same household plus all unmarried (grand)children age 21 and under. Plus FOUR *guests. Additional benefits vary by level. Contact Alicia at 317-630-2059 or email acornett@indyzoo.com for details.

*Cardholder must accompany guests.

Keeper's Circle

$300-$599

Curator's Circle

$600-$899

Director's Circle

$900-$1249

Nussbaum Society Memberships

Make an even bigger impact! All donor level memberships include FREE admission for two adults sharing the same household plus all unmarried (grand)children age 21 and under. Plus FOUR *guests. Additional benefits vary by level. Contact Becca at 317-630-2049 or email rhancock@indyzoo.com for details.

*Cardholder must accompany guests.

$1250-$2499

$2500-$4999

$5000-$9999

Conservationist's Circle

$10000-$24999

$25000+